We have EXCITING news…
Starting in February 2023, we will be offering Sunday School twice per month;
the first and third Sunday of each month.
We explore ways to love, learn and serve through story-telling, singing, crafts
and reading scripture, and we enjoy a snack!  
The class follows the 10:00 service and lasts approximately 45 minutes.
All ages are welcome to attend!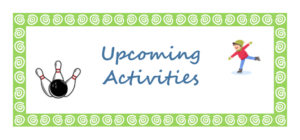 Sunday, January 29: Ice Skating and Pizza Party
at Tam-O-Shanter
Lunch: 12-1 pm / Skating: 1:15 – 3 pm
($6 per person, payable to Tam-O-Shanter)
Sunday, February 26: Bowling Party
following the 10:00 service
(More detailed info. on this event soon )
These events are open to ALL age groups and families. 
Plan on bringing your family and friends and let's have some fun!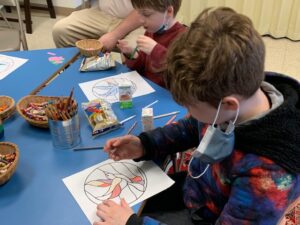 Children's Corner
Children of all ages are welcome in worship!
A children's bulletin is available on the table in the narthex, next to the Sunday bulletin.  Crayons and pencils can be picked up in the Children's Corner, also located in the narthex.  The Children's Corner can also be used during the service.  You will find this area has additional activities for the children to use.  The clear glass walls between the narthex and the nave allow parents to participate in worship while they accompany their little ones in the Children's Corner.