All ages are welcome to attend!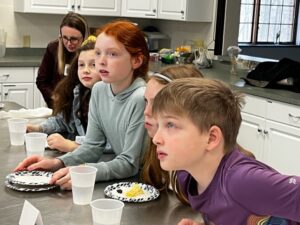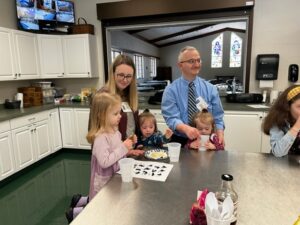 Sunday School meets twice per month; the first and third Sunday of each month.
We explore ways to love, learn and serve through story-telling, singing, crafts
and reading scripture, and we enjoy a snack!  
The class follows the 10:00 service and lasts approximately 45 minutes.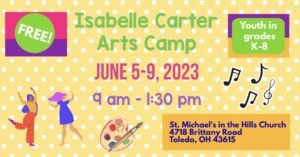 Join us for Arts Camp!
FIRST, reserve your spot  HERE!

THEN, fill out the registration documents

HERE!
WHO:
Toledo Youth (Grades K-8)
WHEN:
June 5-9, 2023: 9am-1:30pm
WHAT:
The Isabelle Carter Arts Program will offer 5 days of art courses instructed by highly educated professionals. Courses offered will range from visual arts to voice, acting, and intro. to dance.
The program will be FREE for participants. Lunch will be provided daily.
Sign-up deadline is May 26, 2023.
WHERE:
St. Michael's in the Hills Episcopal Church
4718 Brittany Rd., Toledo, OH, 43615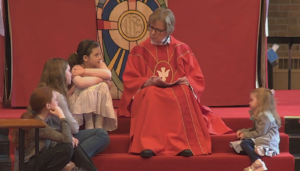 Children's Corner
Children of all ages are welcome in worship!
A children's bulletin, crayons and pencils can be picked up in the Children's Corner, located in the narthex.
This special area can also be used during the service, as it has additional activities for the children.
The clear glass walls between the narthex and the nave allow parents to participate in worship
while they accompany their little ones in the Children's Corner.