Priest-In-Charge
St. Michael's in the Hills Episcopal Church is delighted to introduce our newly-appointed Priest-in-Charge, the Rev. Foster M. Mays! Foster comes to us from Epiphany Episcopal Church in Sedan, Kansas, where he served from 2013 to present. Foster earned his Master of Divinity from the University of the South, School of Theology in 2013, and prior to his calling to the ministry he had a career in trust administration and private banking. He has also served our country as a Naval Flight Officer and an Intelligence Officer in the US Navy and Naval Reserve.
Foster's mission is "To help all people recognize the presence of the Divine in their lives: the power of Almighty God, the revealed love of Jesus Christ, and the inspiration of the Holy Spirit as experienced in worship, Word, open
inquiry, and prayer." In addition to serving his mission, Foster is married to Linda, and they have two adult sons and a golden doodle. They will be relocating to Toledo and plan to join our church family in early July.
To access Fr. Mays' sermons online, please click on this link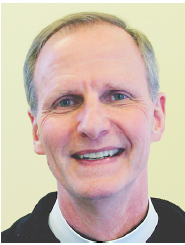 Staff
Justin Bays – Director of Music
Rebecca Park – Organist
Imani Driskell -Director of Children, Youth & Family Ministry
Michelle Knecht and Kim Schrinel – Administrative Assistants
Diane Reeves and Lisa Watson – Sextons
Gretchen Rohm – Financial Administrator
Vestry Class of 2020
Jaymie Fontana
Julie Hagenbuch
David O'Connell – Senior Warden
Jeff Smith
Vestry Class of 2021
David Braun – Clerk
Julia Burtscher – Junior Warden
James Carlisle
Barb Malkoski
Vestry Class of 2022
Nancy Elzinga
Kay Gerhardinger
Ebone Waweru
Dani Zoorob
John Graham – Treasurer