Update May 22, 2020: Attached here is a letter from Bishop Hollingsworth describing the phased approach to returning to in-person parish life. Fr. Foster, together with our staff members, the executive committee, and vestry are discussing the approach that fits our wonderful church, and will certainly keep our congregation updated on plans to move forward.
April 29, 2020, please click on the link below to hear a message from Presiding Bishop Michael Curry
Presiding Bishop Michael Curry's Word to the Church: What Would Love Do? | Episcopal Church
Update April 24, 2020: A Pastoral Letter from the Bishop can be read by clicking here.
~~~~~~~~~~~~~~~~~~~~~~~~~~~~~~~~~~~~~~~~~~~~~~~~~~~~~~~~~~~~~~~~~~~~~~~~~~~~~~~~~~~~~~~~~~~~~~~~~~~~~~
It's a weird time. Students grades 6 and up (including college students!) are invited to gather on Sunday nights during Corona-crazy to check in, share, pray, and reset, before another week of unknowns. Because what we do know is that God is with us, always, no matter how scary or unpredictable the world is. Zoom in on Sunday nights at 8pm @ HTTPS://ZOOM.US/J/2167742230.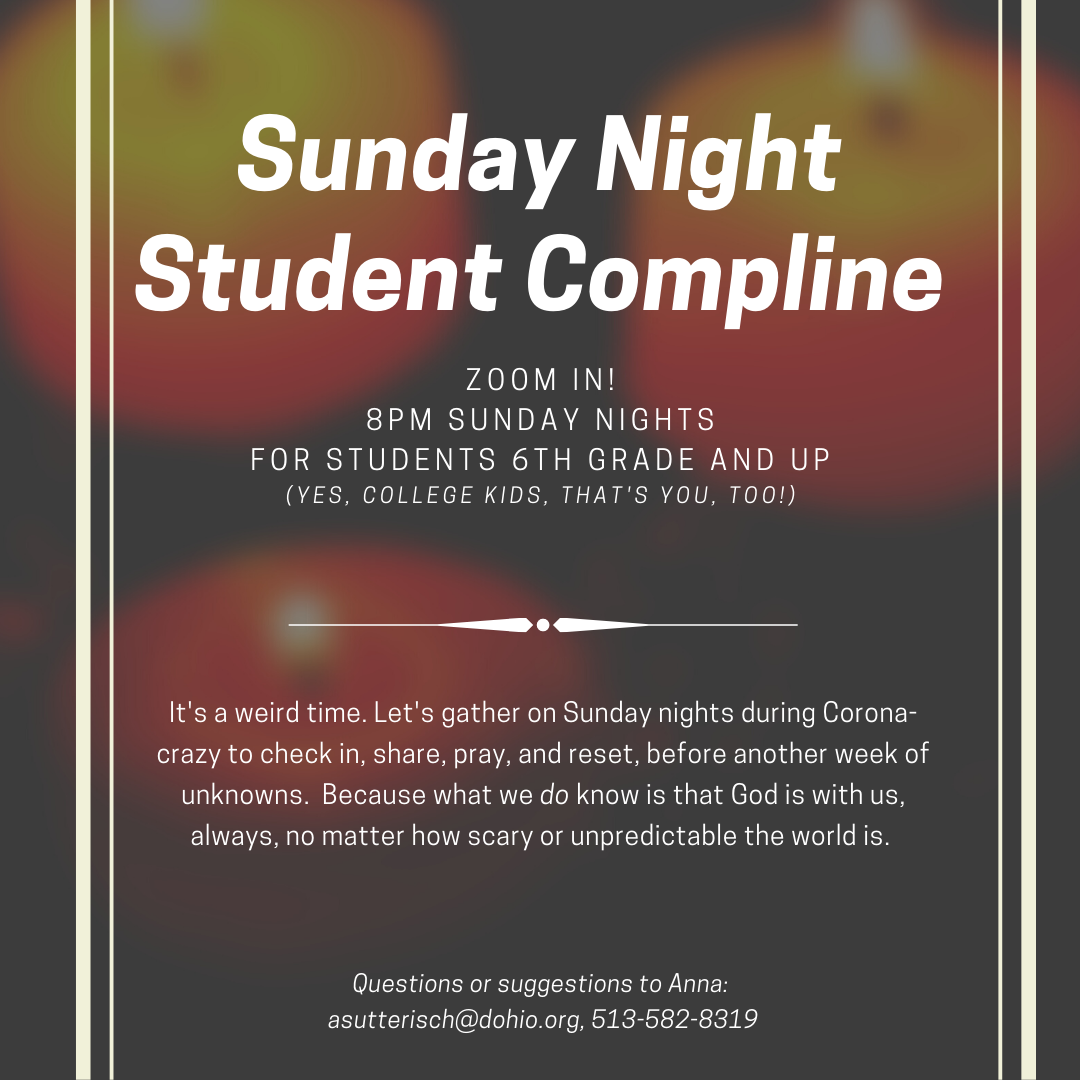 The Rev. Anna Sutterisch
She/Her/Hers
Canon for Christian Formation
Office for Congregations and Christian Formation

Update March 23, 2020:
Spiritual and Pastoral Home and Family Resources
There are dangers and difficulties for everyone in our current situation. Two possible blessings are:
that we grow closer to each other – families and friends – by having meaningful conversations about what we are going through; and
that we take this opportunity to deepen some of our personal and family spiritual practices.
The Rev. Brad Purdom
Canon for Congregations
For a consolidated list of 'Helpful Resources for Individuals, Families, and Congregations During the Pandemic including:
Resources for Personal Prayer and Spiritual Practices
Emotional Care for Individuals and Families
Resources Specifically for Congregations
Screen Time
Screen Sabbath
….. and more
Please visit https://dohio.org/blog/march-2020/helpful-resources-for-individuals-families-and-c


Online Resources for Services:

The Washington National Cathedral: Please visit www.cathedral.org/online for information on services of prayer and livestreamed Sunday services.

Trinity Cathedral Cleveland: Please visit www.trinitycleveland.org/worship for information on their online worship offerings, or visit their Facebook page.

Trinity Church, Toledo:Please visit www.trinitytoledo.org for updates and information on their online services.


March 13, 2020:
Our Sisters and Brothers in Christ,
Following discussion with clergy colleagues and the Vestry of St. Michael's, and considering the pastoral letters sent by Presiding Bishop Michael Curry and our Diocesan Bishop Mark Hollingsworth, we have decided to cancel in-person worship through Sunday, March 29 due to the COVID-19 pandemic. This has been a difficult decision, but as we consider:
– The current rate of spread of the virus- The vulnerability of much of the congregation- The likelihood that some among us have already been exposed and may be contagious while appearing to be asymptomatic, and- The impracticability of maintaining social distance and verifying sanitization throughout a service.

It becomes clear that we cannot ensure you that there is no risk of contagion at St. Michael's. Accordingly, we have decided to cancel all in-person worship at St. Michael's in the Hills through Sunday, March 29.
In the interim, worship resources will be posted on our website and Facebook page as soon as they are available.
Yours in Christ's love,
Foster+ Julia
—
The Rev. Foster M. Mays Julia Burtscher
Priest-in-Charge Senior Warden
St. Michael's in the Hills Episcopal Church